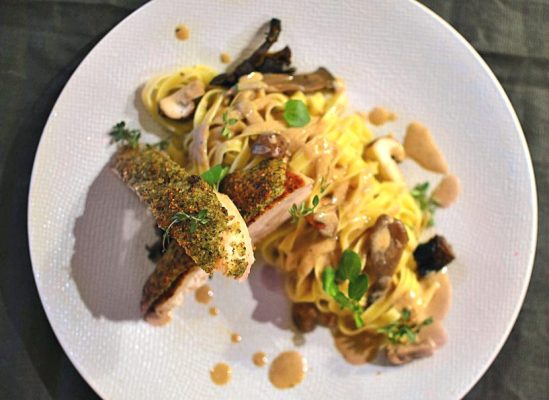 Herb-crusted chicken: 2 beautiful chicken fillets salt, pepper, 1 sprig of thyme 1 clove of garlic For the herb crust ½ garlic clove finely chopped 40 g breadcrumbs 45 g of butter at room temperature 10 g grated Parmesan 1 tbsp very finely chopped parsley 1 tbsp very finely chopped chervil 1/2 teaspoon finely chopped tarragon Mushroom cream sauce 1 clove of garlic 1 shallot 200 g of various mushrooms (chanterelles, trumpets of death, button mushrooms ...) poultry stock Butter optional: mushroom powder (porcini mushrooms for example) 300 g of tagliatelle A few lemon thyme leaves
Directions
Herb crust
We will start by preparing the herb crust, which is called a Viennese in cook jargon (if you want to freak it out a bit …). So you start by taking your butter out of the fridge in advance so that it is at room temperature, very, very ointment. Then you mix this butter with all the other ingredients to get a kind of green ointment! Reserve at room temperature.
Herb-crusted chicken
Preheat your oven to 100 degrees.
Then take your chicken fillets and trim them well to remove the fatty pieces and give them a nice shape. Add salt and pepper. In a dish place a few sprigs of thyme and a clove of garlic cut into pieces. Spread the herb viennoise evenly on top of your chicken fillets. The "ointment" should cover the entire top of the chicken. Place your fillets on the sprigs of thyme and garlic, and bake for 50 minutes at 100 degrees. At the last moment, spend 4 minutes on the very hot grill position to brown the herb crust.
Mushroom sauce – cream
In a pan, heat a little butter. Add the shallot and chopped garlic, and let confuse lightly. Add your mushrooms and brown. This recipe can be made in all seasons depending on the mushrooms available, so please follow the cleaning methods for each mushroom. Deglaze with a little chicken stock (homemade or powdered diluted in water). Let reduce, and add a little mushroom powder, such as porcini powder for example. Let heat a few minutes for the sauce to thicken. Season if needed.
Meanwhile cook your tagliatelle in boiling water.
Footnotes
Cook's Note:

Place your meat well under the grill to sear the crust. Arrange the tagliatelle in a rolled ballotin on the plate, and pour a little sauce and mushrooms on top. Cut your fillets in half and dress them on the pasta, add a few sprigs of lemon thyme, some herbs and serve!

Editor's Note: