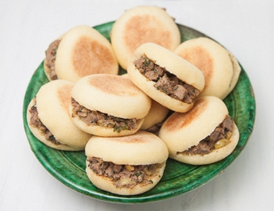 The dough: (for 10 batbouts) - 125 g of flour - 125 g of very fine semolina - 20 g of butter - 2 tbsp of vegetable oil - Salt - 15 g of fresh baker's yeast - 1 teaspoon of sugar - 15 cl of lukewarm water The joke: - 250 g of chicken liver - Salt - 1/2 teaspoon of cumin - 1/4 teaspoon of harissa - 50 g of green olives - 1 tbsp of chopped parsley
Directions
Dough:
– Mix the flour with the fine semolina, add the yeast, sugar, butter, oil and salt. Collect lukewarm water and mix well until a soft dough forms. Knead this dough for 10 min.
– Cover with a cloth and let rise for 30 min.
– On a lightly floured work surface, roll out the dough to 4 mm and cut it using a cookie cutter.
– Place the dough discs on a plate covered with a tea towel and let rise.
– Cook the batbouts in a pan over medium heat, one minute for each side.
The Stuffing:
– Cook the liver in boiling salted water with a few drops of white vinegar.
– Drain it, then cut it into small cubes.
– Mix the liver with, parsley, spices, olive oil and green olives.
– Using a knife cut the batbouts in half without detaching them and stuffing them with the stuffing.
Footnotes
Cook's Note:

Editor's Note: