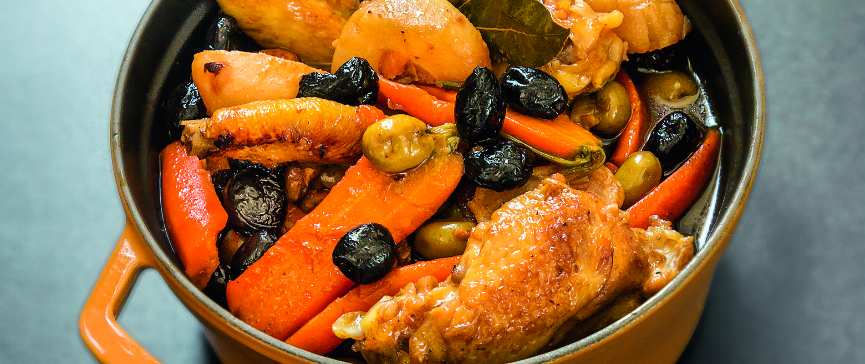 Comments Off

on Dhayaati Chicken with olives
1 chicken
1 onion
1 bunch of carrots tops
1 bunch of turnips
120 g of black olive
120 g of green olive
15 ml of Vinegar
1 laurel
1 liter of chicken broth
100 g of wheat flour
Directions
Chicken preparation
Cut the chicken into 8 pieces; roll each piece into the flour without any excess.
Preparation of the vegetables
Mince the onion; peel the carrots and turnips, cut in half lengthways. Wash the olives with water and let them absorb it for 5 minutes then drain them.
Cooking the chicken
In a sauce pan, pour olive oil and cook the chicken till  brown, add the onions, carrots, turnips, olives, and bay leaves. Glaze it with vinegar and add the chicken broth.
Simmer over medium heat for 1 hour.
After everything is cooked, taste it to adjust the seasoning.
Footnotes
Cook's Note:

Editor's Note: