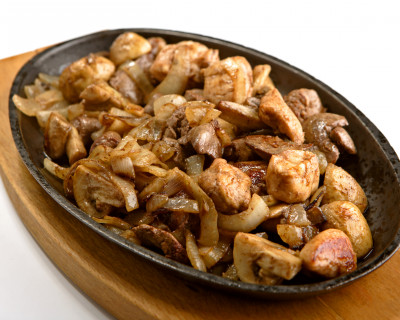 75 g of butter
460 g  of Dhayaati's chicken liver cut into pieces
a can of mushrooms (250 g)
115 g of shredded onions
40 g of flour
1 tsp of salt
1 tsp of paprika
500 ml of chicken broth
250 ml of heavy cream  (15%)
Directions
In a big pan, add the butter till it melts and then add the liver and the onions. Let it cook for 25 minutes on low heat.
When the liver is tender, add the mushrooms, the flour and the spices. Don't forget to stir really well.
Incorporate the broth little by little. Give it a good mix till the sauce thickens up.
Add the heavy cream and continue to mix pretty well.
When it boils, take it off the heat.
Now all you've got to do is to enjoy it on rice or even with a side of bow tie buttered pasta.
Footnotes
Cook's Note:

Editor's Note: